The DSB has been designated as the sole service provider for the future Unique Product Identifier (UPI) System performing the function of issuer of UPI codes as well as operator of the UPI reference data library.
From Q3 2022, the DSB expects to be providing UPIs for over-the-counter (OTC) derivatives to enable global regulatory authorities to aggregate data on OTC derivatives transactions to help assess systemic risk.
What is a UPI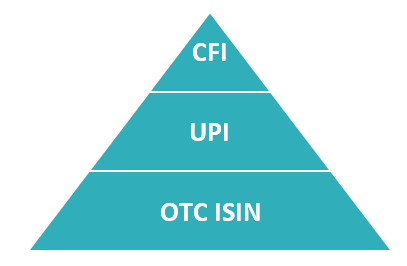 UPI stands for 'Unique Product Identifier' and is designed to facilitate effective aggregation of over-the-counter (OTC) derivatives transaction reports on a global basis.
In the first instance, the role of the UPI is to uniquely identify the product involved in an OTC derivatives transaction that an authority requires, or may require in the future, to be reported to a Trade Repository (TR). The UPI will work in conjunction with Unique Transaction Identifiers (UTIs) and Critical Data Elements (CDE) which are also expected to be reportable to global regulatory authorities.
The Committee on Payments and Market Infrastructures (CPMI) and the International Organization of Securities Commissions (IOSCO) published their finalised UPI Technical Guidance in September 2017. Under the Technical Guidance, a unique UPI code would be assigned to each distinct OTC derivative product and would map to reference data elements with specific values that together describe the product. The collection of reference data elements and their values for each product would reside in a UPI Reference Data Library to be administered by the UPI Service Provider.
The DSB will continue to provide updates to the market as more information becomes available. Industry participants with queries are encouraged to subscribe to UPI updates via the link on this page, or contact the team at otc.data@anna-dsb.com.
Reflecting broader geographic representation and new responsibilities London, 25th November 2020 – The Derivatives Service Bureau (DSB), founded by the […]
SUBSCRIBE TO DSB UPI UPDATES
More detailed information on the Product Committee which oversees the expansion of the ISIN to cover applicable derivative products, as well as maintaining the integrity of the standard.
Find Out More
During its development period, the DSB will conduct a series of open industry consultations to ensure that it meets the needs of participants in OTC derivatives markets. Here are links to the consultation pages where the downloadable consultation papers can be found, as well as industry responses and finalized papers.
Find Out More