Once again, the rate at which new OTC ISINs are being created continues to fall – with a reduction for the fifth consecutive month. The rate of creation suggests that industry may have largely reached steady state for existing instrument types, with ISINs being created both at point of quote/trade and as part of post-trade reporting activities.
over 90% of all new swap ISINs were created for eight products, with single name and single index equity swaps leading the way
in the case of options, the majority of new OTC ISIN creation activity was focused on rates swaptions, vanilla FX options and single name/ single index equity options
unsurprisingly, most forwards ISINs were created in FX
This month's blog provides some new information about the types of firms driving the majority of ISIN creation activity in each asset class. We looked at the top 20 firms creating new OTC ISINs by type of institution and found that although the list of institutions in the top 20 varies in any given month, the broad ratio of 67% banks and 33% venues remains unchanged.
More detail is provided in the chart below which shows the institutions that have created the most ISINs since launch of the DSB's production service on 2nd October 2017.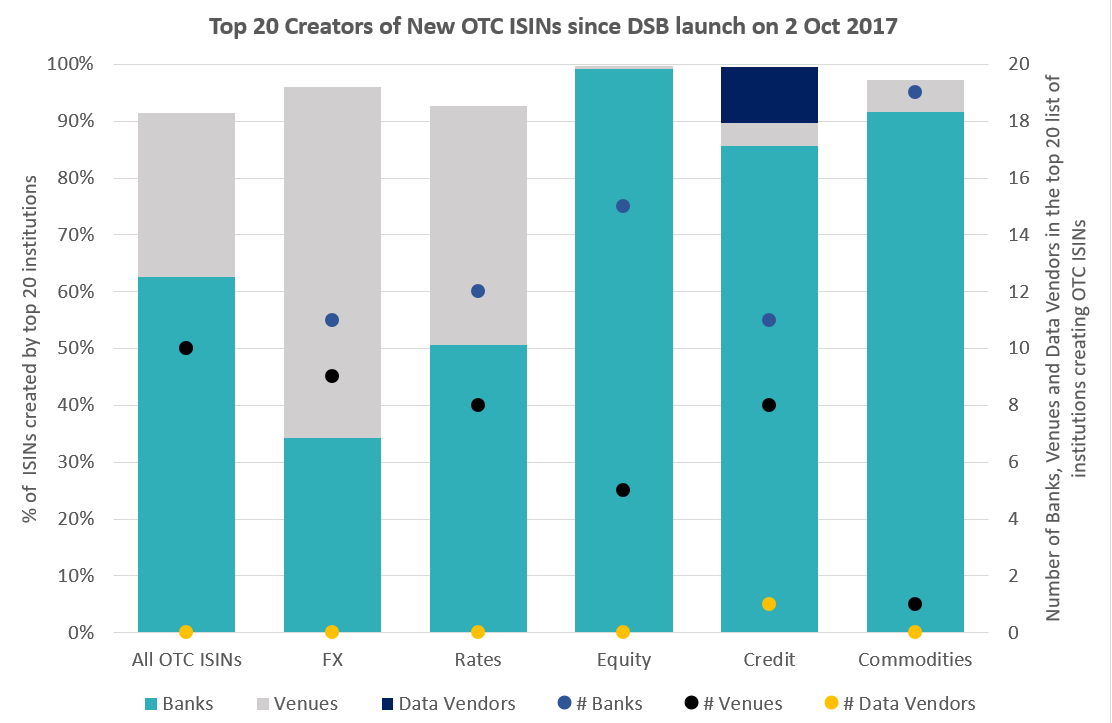 What's notable, but perhaps unsurprising is that banks are driving ISIN creation activity for equity, credit and commodities whilst accounting for half of all Rates ISINs and a third of FX ISINs. What is perhaps surprising, is the existence of a data vendor in the top 20 list.
The usual monthly statistics by asset class and individual product type are provided below:
An asset class view:

More detailed, product level information: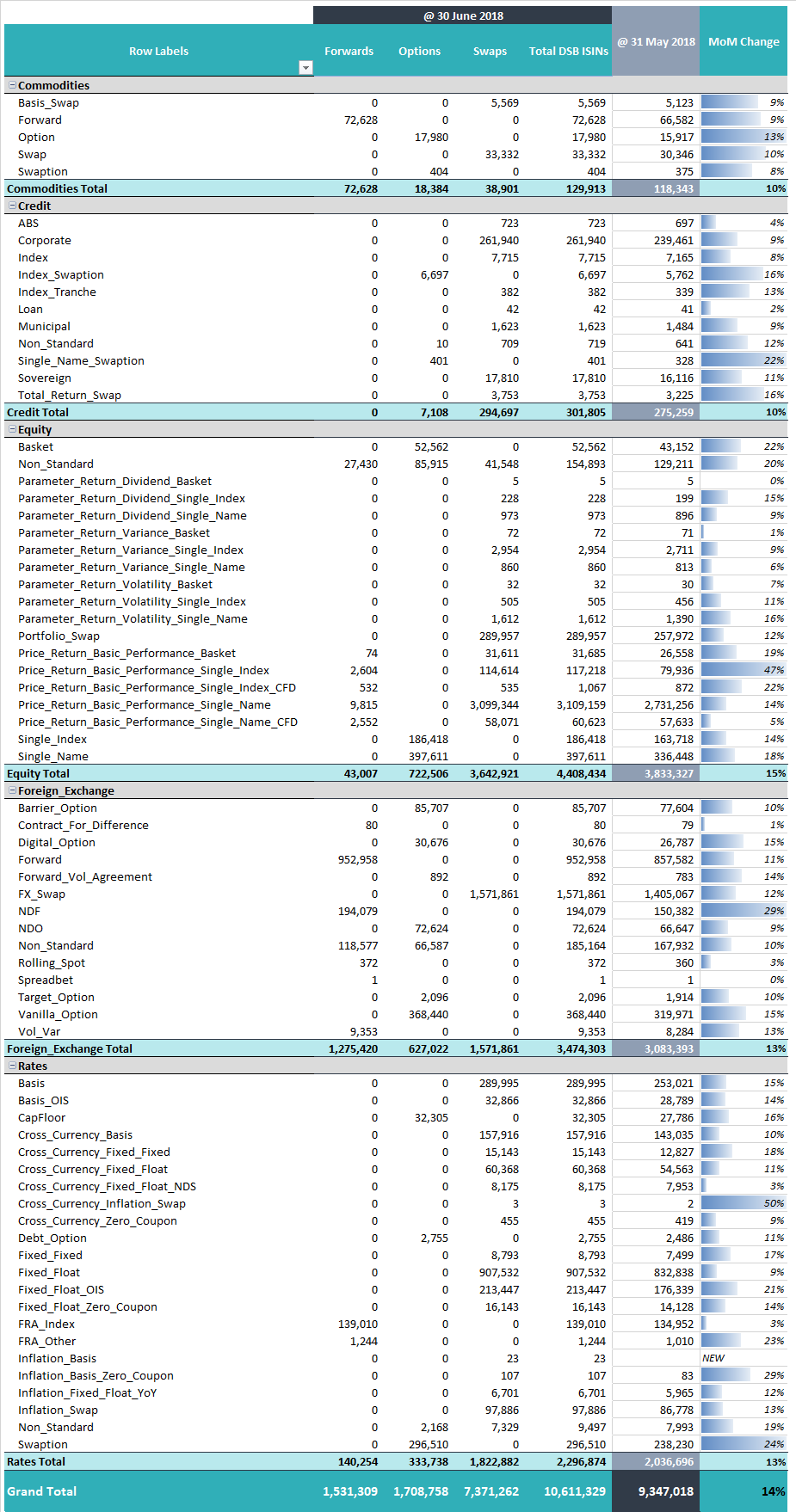 The pace at which new ISINs were created continues to fluctuate with some notable highlights captured below. Note that these numbers show the difference between the monthly creation rates for Apr/May vs. those created in May/Jun 2018.
Equities: 26% decrease in non-standard forwards ISINs created vs. 62% increase in price return basic performance single index forwards. Single index and single name options were up 22% and 38% respectively
FX: 43% drop in FX Vol_Var ISINs, 21% decrease in FX forwards vs. 318% increase in NDF ISINs. There was a general decline in the rate of creation of FX option ISINs, with marked drops for barriers, FX Vol options and barrier options. Notably, 57% more NDO ISINs were created in June than in May 2018
Rates: 25% increase in FRA Index ISINs.
Credit: 15% and 17% drops in CDS Index and Single Name swaptions respectively
Search Trends:
There is a marked difference in the type of search functionality used by programmatic users and GUI users, with web-interface (GUI) users driving two-thirds of search by attributes. Again, this is not surprising given that many programmatic users have created their own internal data lakes, however the difference is still a noteworthy reminder of the fact that most of the almost 400 firms connected to the DSB, do so via the web interface.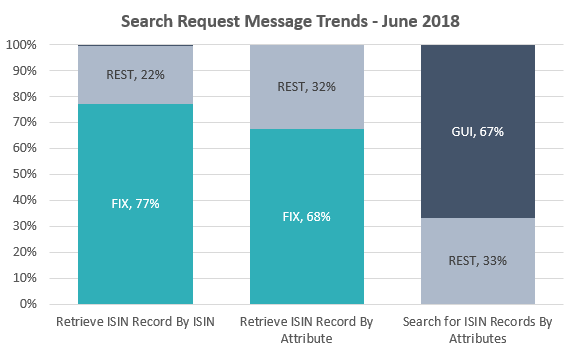 Finally, a reminder to readers that the DSB's second consultation about proposed service levels, functionality, service availability, user fees and changes to the user agreement is currently open for comment and closes at 5pm UTC on 27th July 2018. Please submit your responses and related questions to industry_consultation@anna-dsb.com.
Published by Malavika Solanki