The August trend mirrors that of the prior month, with a modest 11% increase in the number of OTC Derivative ISINs created.
The charts below show that banks continue to create most OTC Derivatives ISINs, with 13 banks and 7 venues having created almost 96% of all DSB ISINs. What is notable in August however, is that for the first time the buy-side are amongst the top 20 ISIN creators of new instrument identifiers – albeit for a single asset class.
This note also touches on some of the new product development work which is underway at the DSB and provides some insight into the way in which users are able to request changes and enhancements as required.
The DSB Change Request Process:
Users can submit change requests (to DSB Product Definitions or ISINs) by submitting a form, which then follows the documented workflow that includes review by the DSB Product Committee – a body comprised of industry representatives from the buy-side, sell-side and trading venues.
Publication of the process is intended to provide industry with a consistent and transparent approach in both the evaluation and subsequent implementation of changes. The process documented on the DSB website is expected to evolve as industry use of the DSB service matures and industry adoption of DSB ISINs increases as the Systematic Internaliser (SI) deadline comes into effect in 2019.
Upcoming DSB Product Definition Releases:
Those subscribed to DSB notifications and updates (via technical.support@anna-dsb.com or by signing up on the DSB website) will know that the DSB will shortly be introducing revised multi-commodity templates in UAT, with the new templates to be made available in production on 28th October 2018.
The DSB is also working on revisions to its cross-asset templates, which have been in UAT and will announce target release dates once final industry feedback has been collated by the DSB Secretariat and subsequently reviewed and approved by the DSB Product Committee. Announcement of the intended implementation timeline will be made in the coming weeks, with the DSB aiming to give industry sufficient notice to allow time to prepare for implementation.
Now on to the usual monthly metrics…
Monthly creation of new ISINs since launch of the DSB's Production service in October 2017 shows new ISIN volumes reaching steady state as industry gets accustomed to the MiFID ii regime.
The first chart shows a the new ISIN creation process reaching steady state for the suite of live DSB Product Definitions.

As mentioned above, a single asset class stands out in terms of the diversity of the types of institutions creating ISINs. All but Credit have a varying mix of banks and trading venues as the primary creators – albeit with a diversity in the types of institutions making search requests and consuming downstream end of day DSB data.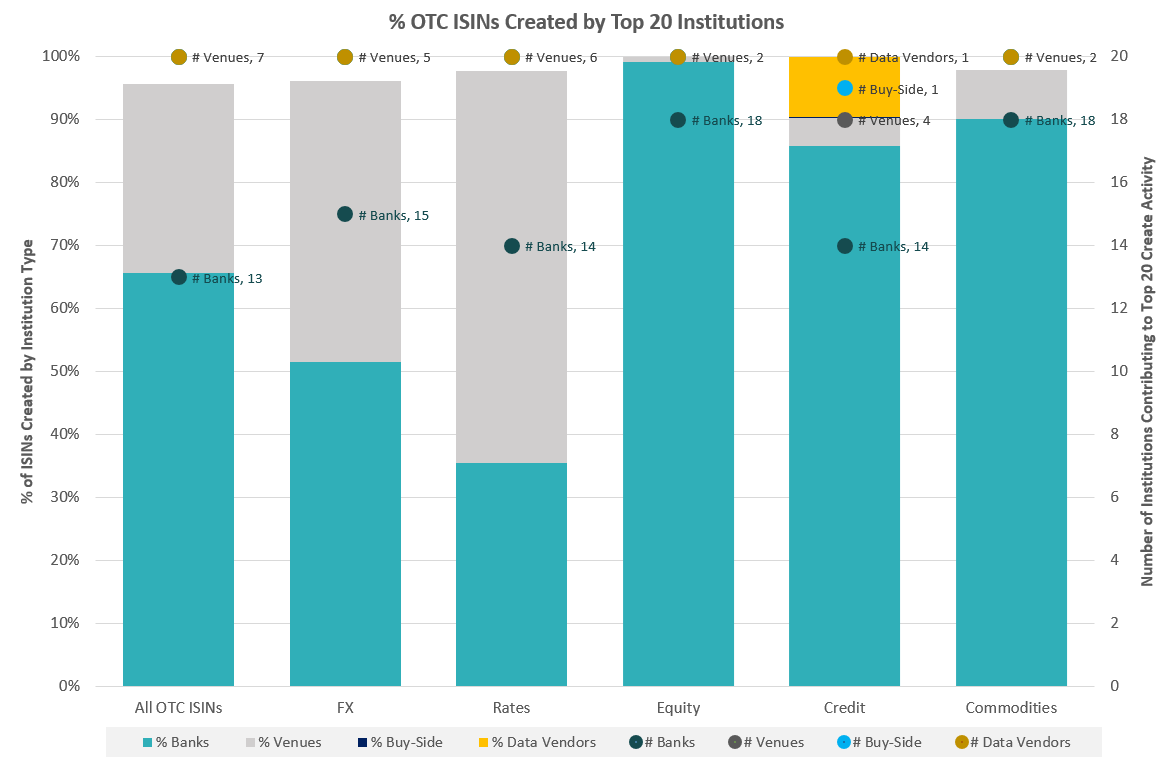 The asset class, product definition composition and nature of search request messages sent to the DSB remains consistent with recent monthly patterns.

Product Level Highlights include:
Commodities – New ISIN creation rate was generally higher than in the prior month, with a significant rise in the rate at which new Commodity Option ISINs were created (34% rise in August vs. July whilst July saw a 10% increase vs. June 2018)
Credit – headline creation rates were unchanged vs. July, however there was a notable variance at product definition level, with CDS created at a slightly lower rate in August
Equity – as above, the headline rate remained fairly similar to the prior month, with the notable exception of the rate of new ISIN generation for Single Index products. Otherwise, Equity Single Name Swaps continue to dominate this category
FX – NDF ISIN creation rate was slightly lower in August vs. that in July but all other rates held steady
Rates – no significant changes to report this month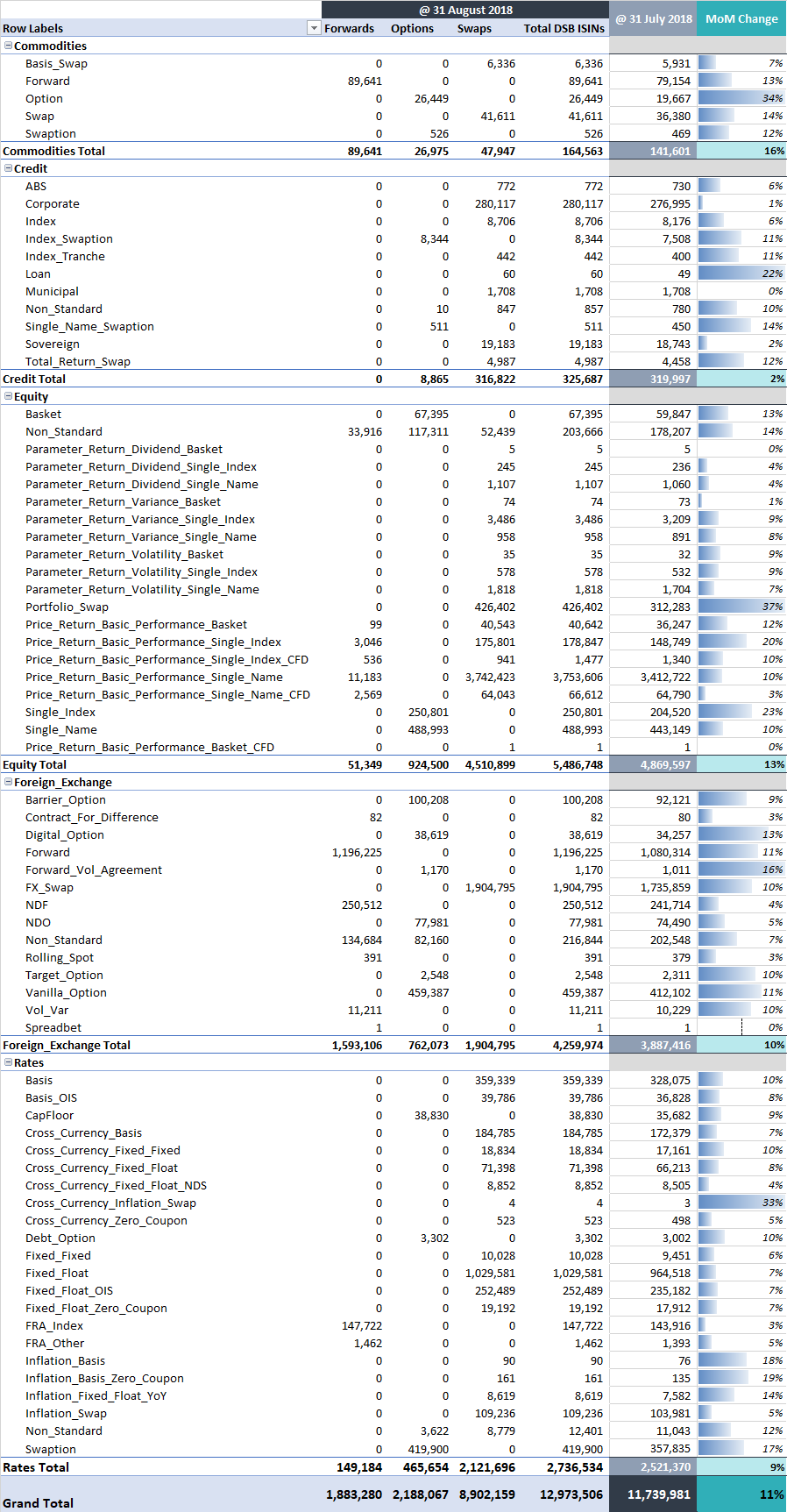 Search Trends:
Use of the DSB's search capabilities persists, with the web-interface (GUI) users driving most searches by attribute, however July saw a slight increase in the number of requests (mostly FIX) seeking information the full OTC ISIN record for a given ISIN. Snapshots of the search messages types received are shown by connection type – on both an absolute and relative basis.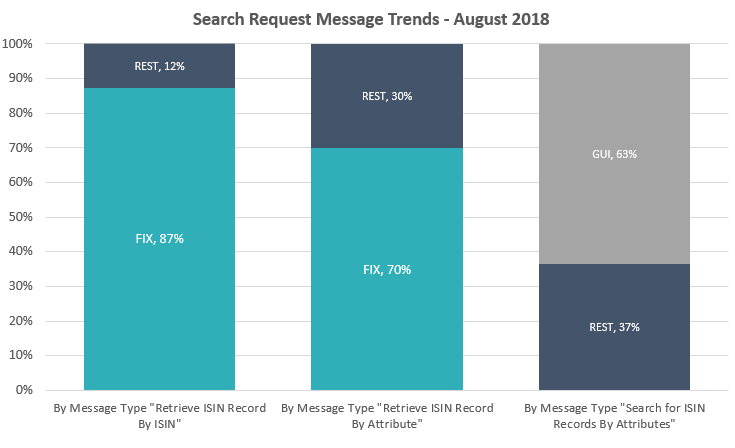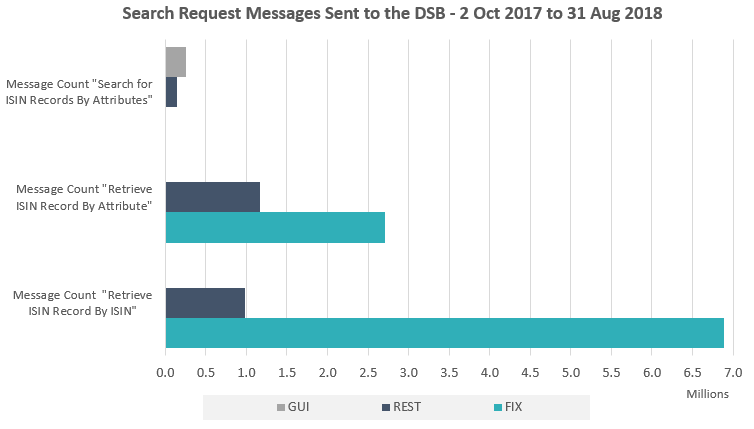 Published by Malavika Solanki